Ancient Kauri Wood
...a 45,000 year old story!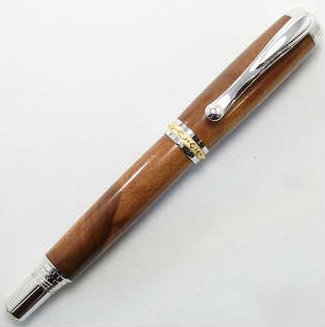 Native to New Zealand, Ancient Kauri has been preserved underground in a perfectly balanced bog environment. Coming from the Kauri forests that grew 45,000 to 50,000 years ago, some of these Kauri trees grew for 600 to 2,000 years before falling from natural causes.
The Ancient Kauri trees that are found today have remained preserved beneath the surface of New Zealand. While the wood of Ancient Kauri generally has a density that is similar to cherry or mahogany, it can vary from piece to piece. (This seems to depend on its location underground.) Once dried properly, Ancient Kauri will be surprising light. It will have a tight grain, a texture similar to basswood, and no sap wood (long ago dissolved). When finished, Kauri has a deep golden color, with hues and textures that seem to change under differing shades of light. Ancient Kauri seems to radiate light from within. Most Ancient Kauri is clear, but it can be found in curly, burly and flame. And in rare cases - in "whitebait"; a special term coined especially to describe this unique and very beautiful active figure that is found only in Ancient Kauri. (Whitebait figure was named after the shimmering fish that school just off of "Kauri Coast".)

The Ancient Kauri logs being extracted from the north island of New Zealand today are radiocarbon dated at 45,000 to 50,000 years old - and older. At 50,000 years old, this wood pre-dates the migration of Neanderthals, the arrival of Homo Sapiens, the hunt for mammoths and all the cave paintings in Europe. These trees were already buried for 30,000 years before the onset of the Earth's last Ice Age!
The Ancient Kauri logs are typically extracted from areas that were at one time bogs, but are now firmer and drier. The logs are immense, and raising the logs to the surface is just part of the job. Moving them to a location to begin the milling and drying process is a huge undertaking. Without the latest in hydraulic equipment, the extraction of these logs would be next to impossible. No one knows how much Ancient Kauri lies beneath the ground, but we do know that there is a finite amount. That is why it is important to take advantage of the opportunity to own a piece of this extremely rare wood, a piece of truly ancient history!

The scientific name for Kauri is Agathis Australis . This species belongs to the Araucariaceae plant family, which means the trees are Conifers (soft wood), so they produce cones instead of flowers for reproduction.

The oldest fossil of New Zealand Kauri has been dated to 175 million years old, making Kauri among the largest species of trees in the world. Kauri trees do still grow in New Zealand today, but these living, growing behemoths are now protected by law. (Some Kauri trees can grow to a height of 200 feet, with a girth of 40 feet. The largest Kauri tree on record had a girth of 77 feet and was 72 feet high, just to the first branch!) Kauri trees continue to grow in other locations around the Pacific Rim, however the natural phenomenon of buried Ancient Kauri logs is found only in New Zealand.

If you would like to purchase a certified Ancient Kauri pen, check out my
Store
.